No longer does the New Zealand flag fly proudly from her bow. No longer does she sail the oceans of the world in the service of her country and of the Royal New Zealand Navy. I feel a trace of sadness as I walk past this old and faded warship streaked with rust and, quite literally, a shell of her former self. Now decommissioned and bequeathed to the city, she flies the banner of Wellington proclaiming the city legend "Absolutely, Positively, Wellington", befitting both my city and this ship, the former Royal New Zealand Navy frigate, HMNZS Wellington.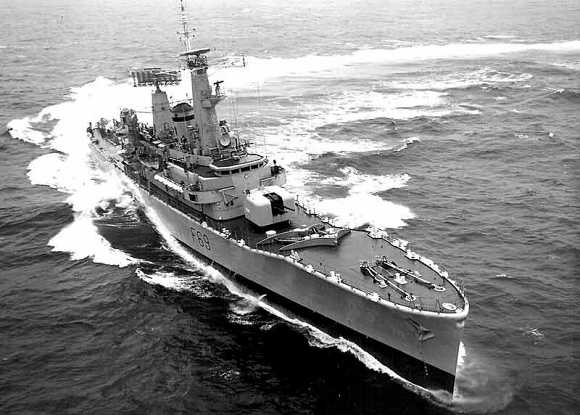 F69 in role as the Royal Navy frigate HMS Bacchante
Crown Copyright
Although one of very many warships built in Britain for the Royal Navy, this particular vessel, F69, was to become an icon of Wellington and its people and was to sink itself, quite literally, into Wellington's collective consciousness. Commissioned in 1969 into the Royal Navy as HMS Bacchante, F69 served 13 years under the British Ensign. During this time Bacchante was instrumental in protecting British fishing rights in the so-called "Cod Wars". These "Wars" were a series of confrontations between the United Kingdom and Iceland over Iceland's claims of authority over tracts of ocean off their coastline as being their exclusive fishery zone. The "Wars" ended with a compromise between the two countries allowing a limited number of British trawlers access to the disputed 200 mile Icelandic exclusion zone.
On October 4th 1982, at Portsmouth, England, the Leander Class frigate, F69, was commissioned into the Royal New Zealand Navy and renamed HMNZS Wellington. She then set sail on her delivery voyage to New Zealand. She arrived at Auckland in December of that year and, for the next 36 months, underwent an extended refit to modernise her and remove all traces of asbestos. Following re-commissioning, one of her first official duties was to be present at the funeral of Rear Admiral L J Tempero, CB, RNZN in 1987. Admiral Tempero is a relation through my Mothers family. Over the next 17 years, HMNZS Wellington was to sail to almost every part of the globe serving mankind and her adopted country to the very best of her ability.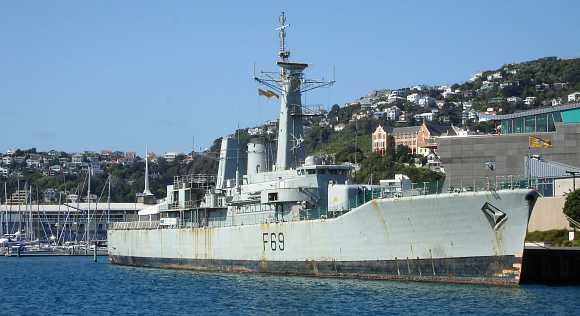 HMNZS Wellington following her decommissioning.
Copyright Peter Wells 2005
In 1999, HMNZS Wellington arrived back in her home port of Wellington on her decommissioning visit where she was formally retired from the navy on May 5th 2000. She then sailed to Devonport Naval Base in Auckland to have her inner workings removed and to be thoroughly cleaned inside and out. On May 7th 2005, under tow, HMNZS Wellington arrived back in Wellington City and tied up at the wharf in front of Te Papa, New Zealand's National Museum. Stripped of all her fittings (many of which have been sold at various auctions) and eventually of her funnel which, it is suggested, would "make a great garden shed", F69 is being prepared for her final trip to sea, a trip from which she will not return. On or about November 12th 2005, weather permitting, the SINKF69 TRUST will scuttle HMNZS Wellington in the ocean off Wellington's south coast to create an artificial marine reef and recreational attraction for divers. F69 will rest in 21 to 26 meters of water showing 4 buoys to identify her presence. In this way she will join other vessels submerged in New Zealand waters for the same reason - HMNZS Tui, HMNZS Waikato and the celebrated Greenpeace ship, Rainbow Warrior. She will provide, as near as possible, a natural environment for recreational divers from Wellington, other parts of New Zealand, and the world. If you are keen on scuba diving, come to Wellington to pay us a visit. Check out the hospitality, the genuine friendliness of Wellington citizens and a reef named HMNZS Wellington.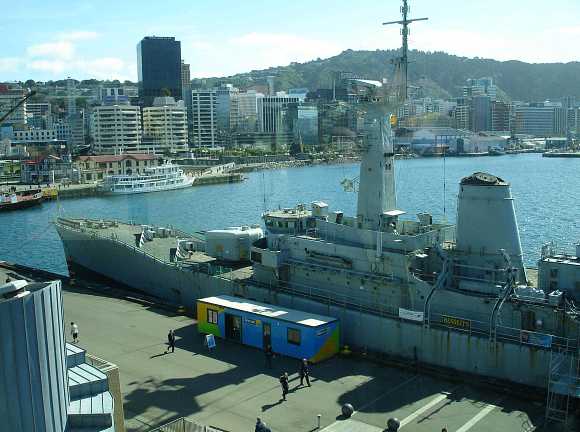 HMNZS Wellington from Te Papa Museum, Wellington.
Copyright Peter Wells 2005
Sunday November 13th, 2005
It is just before 8:00 am on Sunday morning, November 13th, 2005. My grandson, Ryan, and I have come here to bear witness to the "last sailing" of the frigate HMS Bacchante/HMNZS Wellington. We are on the South Coast just near one of Wellington's surf beaches, Houghton Bay. The slightly cool wind is chipping the tops off a minor swell, while the sun brings an early morning warmth and brightness to the whole scene. We look to the left and, through a slight sea-haze, spot F69 under tow and with her escourt appearing beyond Te Raekaihau Point, the left arm of the 'U' that is Lyall Bay, South Wellington.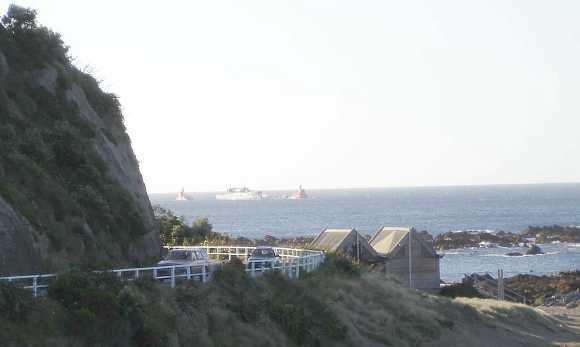 HMNZS Wellington approaches Te Raekaihau Point, Wellington.
© Copyright Peter Wells 2005
Not many are here. A couple to our right have found a comfortable, grassy flat on a cliff-top between Princess and Houghton Bays. A family fishing off the beach below us appear to take notice (though are perhaps more intent on the dip and flex of the tips of their fishing rods) while drivers slow to look and runners and cyclists stop and stare. Many seem to be aware of what is happening due to recent intense publicity, but the emotion of the moment is mine and a few others. F69 stops directly in front of us, held in position fore and aft, and we have seen what we came to see. I had decided that I would be a part of one experience or the other. I would be there for her last voyage or witness her "destruction". I don't know why but the next step in the story struck me as something akin to gladiatorial sport with a symbolic and spectacular coup-de-gras. I did not wish to see that. I knew then that the next time I saw her would be on the front page of tomorrow's newspaper. I was OK with that.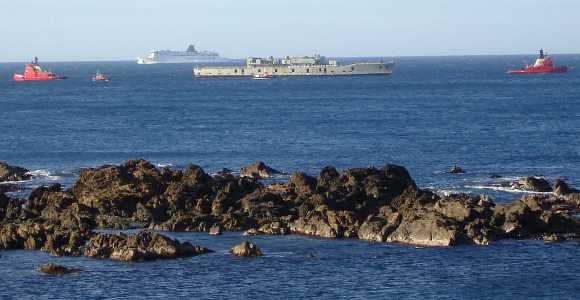 HMNZS Wellington is jockeyed into position off Island Bay, Wellington. Behind sails one of
the ships of the Inter-Island ferry line bringing passengers into Wellington from Picton on the
South Island. Travel straight ahead and you will not stop until you reach the Antarctic Continent,
an indication of why Wellington is vulnerable to very cold southerly winds.
© Copyright Peter Wells 2005
3pm on Sunday, November 13th, 2005 culminated in a huge success for Marco Zeeman (1) visionery, concept man and tireless driver of the Project for some 5 years. HMNZS Wellington began her descent to the sea floor with spectacular pyrotechnics whose only purpose was to wow the crowds. The effective charges that sank her, 14 in all (7 on each side) were placed below her waterline. I know the crowd would have wanted to see and hear a spectacular "bang" rather than a dull, unseen "woomph"? And so it was to be as the picture below, kindly lent to us for this story and taken by young Carol Olsen, shows. Carole took the picture from aboard the launch Carole V and it is quite frankly the very best I have seen from all those splashed across the newspapers and internet in the ensuing two weeks. Congratulations Carole.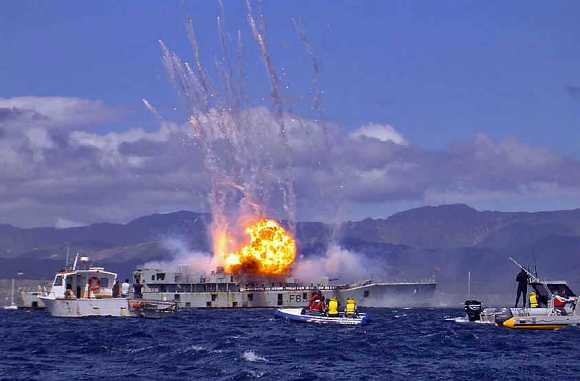 Explosions and spectacle mark the commencement of HMNZS Wellington descent to
the seafloor. Here she will begin her metamorphosis into a world class diving playground
and Marco Zeeman will ultimately realise the culmination of his dream.
© Copyright Carole Olsen 2005
(1) Marco Zeeman has since been named Wellingtonian of the Year for 2005. Congratulations Marco.
For further information on the history of frigate F69, please see Isaac Newtons excellent website at http://www.hmsbacchante.co.uk/.
© Peter Wells, Wellington, New Zealand