Series 4, Part 1
Wellington Railway Station
- The Grand Old Lady of Bunny Street
This story is dedicated to my mother who, at 85, passed away on August 2nd, 2008.
Almost all the memories I have of my youth embrace her in part or in total and it is
she who I must thank for my love of writing and for my passion for history. Mum I
hope that through these stories I am, at least in part, repaying your gift to me. I
know you always enjoyed reading them.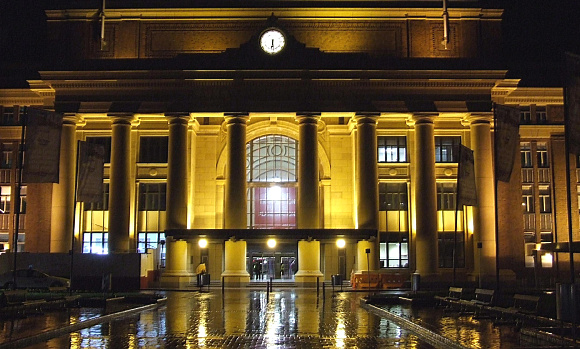 The imposing facade of Wellington Railway Station taken early on a rain-slick August morning. The eight 13 meter tall Doric columns can clearly be seen supporting a massive lintel and the obligatory "railways clock".
Foto: Peter Wells, 6:30am August 12th 2008.
My first memory of Wellington Railway Station was as a very young lad when our family took a journey on "The Limited", the overnight express steam train that ran between Wellington and Auckland. My memories are of the long covered platforms where the huge engine sat preparing for its journey, spilling bright white steam across the platform; the wooden carriages with large comfortable seats and sash windows that would open by sliding upwards enabling us to peer out at the engine ahead as the train pulled through a curve; the pillow kiosk where, for a modest deposit, we could obtain crisp, clean white pillows for the long journey and the vast and mysterious caverns of the luggage check and lost property departments. As would be expected I also remember the men's toilets of pristine white porcelain with black and white check tiled floors always smelling faintly of disinfectant and urine. Of course there were always the railway porters resolutely pushing their heavy wooden luggage trolleys with clanking metal wheels. To the uninitiated these trolleys could swiftly develop a will of their own, much like today's supermarket trolleys. I do not recall the purpose of that journey back then but we had cousins in Auckland and may have been on our way to visit them.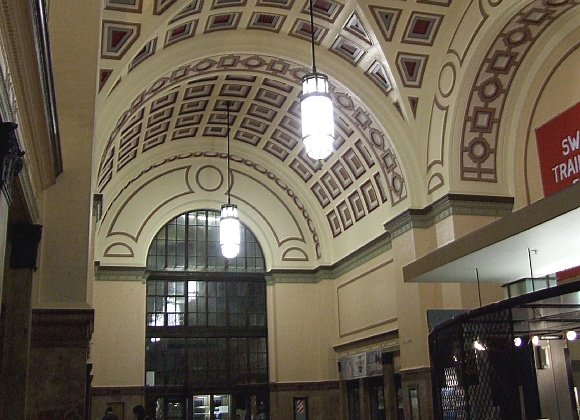 Inside the main entrance columns is the soaring circular-groined main concourse featuring an arched ceiling framed in Rimu and Oregon timber. Set into the floor is a huge compass rose giving travellers a sense of direction. This area was the original booking hall.
Foto: Peter Wells, 6:30am August 12th 2008.
Wellington Railway Station, now unfortunately called by many, Wellington Train Station - such are the Americanisms that creep into our speech - is a huge and very elegant edifice. Indeed when it was opened in 1937 it had the distinction of being the largest building in New Zealand but then our aspirations were more modest in those days. While it has been suggested that we Wellingtonians take our railway station for granted, I do not believe this to be the case. Accepted it is not continually in the forefront of every citizens thoughts, but for those 40,000 passengers (2007 estimates) who daily arrive in and depart from the city beneath its grand arches and vaulted halls it has meaning and purpose aplenty. The Railway Station building does, of course, have the interesting distinction of being one of the few buildings in Wellington still used for the purpose for which it was designed and built 71 years ago while railway stations in other New Zealand cities - Auckland, Christchurch and Dunedin - have since been re-developed for other purposes. To ensure that Wellington Railway Station is preserved for future generations to enjoy, the building has been accorded a Category 1 Historic Places Trust status and it has recently been given a huge multi-million dollar makeover. The Category 1 status means that a number of the buildings original features, while being cleaned and touched up, have had to be retained, including an upgrade to its earthquake resistant qualities.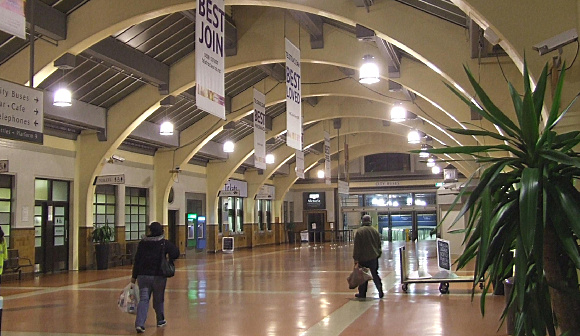 The main concourse of Wellington Railway Station. Apart from the replacement of the original asphalt floor with linoleum, the obvious advertising signs and plaques scattered around, CCTV cameras and the illuminated ATM machines, the layout remains almost unchanged. A commuter from 1937 would notice little difference.
Foto: Peter Wells, 6:30am August 1st 2008.
Although modest attempts had been made by some provinces to lay down railway systems in New Zealand before the 1870's, most of these were for private or industrial purposes. New Zealand, as we know, was settled by the British and there was one thing that the British did very well. They built excellent railway networks. In India there was proof of this but in New Zealand in its first 30 years of colonisation land-based travel was not as easily accomplished. Roads, other than muddy cart and horse tracks, were almost non-existent and much travel in those early years was made utilising coastal sea lanes where speed of travel was only hindered by the occasional storm. It was not until the mid 1870's that the New Zealand Government, whose control was finally centralised once the authority of the provincial governments had been dissolved, was able to put in place its plans for a national railway network. At this time Englishman John Brogden featured strongly in the development of New Zealand's railway network and many New Zealand families today owe their ancestry to the "navvies" Brogden brought out to New Zealand to carve our railway systems through its hills and valleys. Wellingtons first railway station, Thorndon, was built in 1874 as the southern terminus for the Wellington to Hutt Valley line. For the first time the city of Wellington was to become the southern North Island terminus for a railway network. Burned down in 1878, the building was replaced by another in 1880 now servicing a line which extended between Wellington and the Wairarapa. Six years later a second railway line, the privately run Wellington-Manawatu railway, was set up and a second Wellington railway station, Lambton Station, was erected to service it.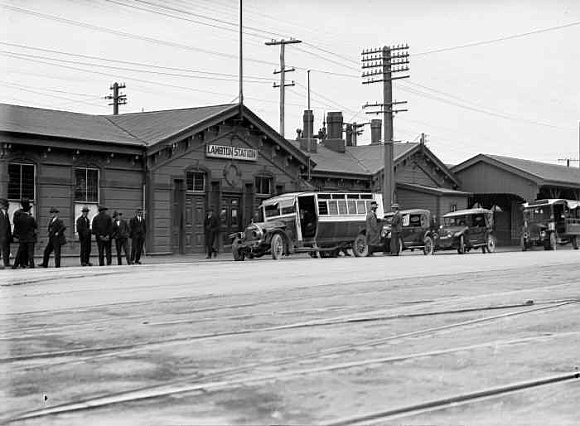 Reference number: 1/2-047394-G Lambton Railway Station, Thorndon Quay, Wellington. Permission of the Alexander Turnbull Library, Wellington, New Zealand, must be obtained before any re-use of this image. One of the original Wellington stations, Lambton, serviced the Wellington to Manawatu line. Of note are the magnificent buses and motor vehicles of that era.
Following the purchase of the Wellington to Manawatu railway line by Central Government in 1908 the public began to pressure the Government to build a single station to replace those presently in existence at Thorndon and Lambton. For this to go ahead would require a major modification to the cities railway systems. In the long run the Government decided on a development which would not only include the building of a new station on previously reclaimed land but would also require the reclamation of a further 28 hectares of land on which would be built extensive train shunting yards, stock yards and goods sheds. This plan included the construction of a new double-track railway thereby negating the need for sidings and passing areas. A significant undertaking, the reclamation would take 8 years to complete, ending in 1932, and work on the building of the railway station itself began in July of the following year. Declining construction costs, occasioned by the Great Depression, meant that the Government was more easily able to afford the work and construction on the building, to a neo-Georgian design proposed by the New Zealand architect W Gray Young of Gray Young, Morton and Young began almost immediately. Built close by the wharf complex and to the city, the station was officially opened in 1937 by his Excellency, the Governor General of New Zealand, Viscount Galway.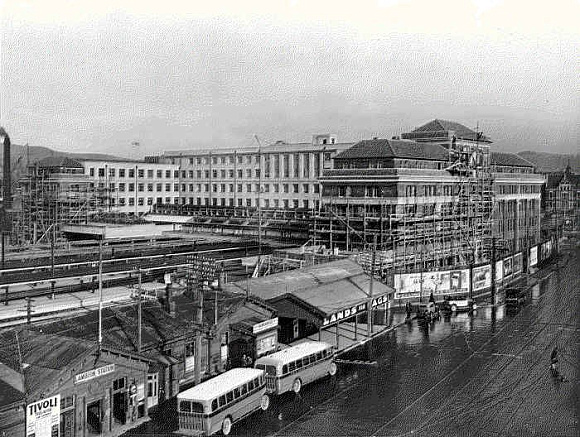 Reference number: PAColl-7081-11. Old and new railway stations, Wellington. Permission of the Alexander Turnbull Library, Wellington, New Zealand, must be obtained before any re-use of this image. While one of the original stations (Lambton) was still in use, its successor is shown in the final stages of construction behind. The Lambton Station" and "Lands for Bags" buildings have been replaced by a shopping complex.
This wonderfully imposing structure, housing both the head office and district office of the New Zealand Railways Department, gave solid representation to the significant impact of the railways in the development and progress of New Zealand as a nation. As with many countries across the world, a network of railway lines and the majestic iron engines that traversed them, served to open up the interior and to unite our borders north to south and east to west. The building itself, formed in the shape of an immense north-facing U, is 23.5 meters high (6 stories) and 105.5 meters long and was built using state-of-the-art construction techniques. Such construction innovations as a steel framework encased in concrete, specially designed and reinforced brickwork on its exterior, foundations grounded in the original harbour bed and a base of Coromandel granite served to give the building an in-built strength. Seismic design restraints, learned from the Japanese, were also incorporated and it became one of the first buildings in New Zealand to have built in earthquake proofing. The ground floor was designed to have the facilities of a "first-class modern hotel" which included waiting rooms, rest rooms, a large dining room, a barbershop, book and fruit stalls and a first aid room. Also included on the top floor was a well-equipped, spacious nursery in which parents could safely leave their children while they shopped or waited for a train. The front of the station was set in park-like surroundings with spacious lawns, brick-edged paths and small flower beds. Built to house 675 head off and district office railways staff, until then accommodated in eleven leased buildings throughout the city, the structure also provided a social hall for its staff which was used for functions, social club meetings, conferences and union meetings and could also be hired for private parties.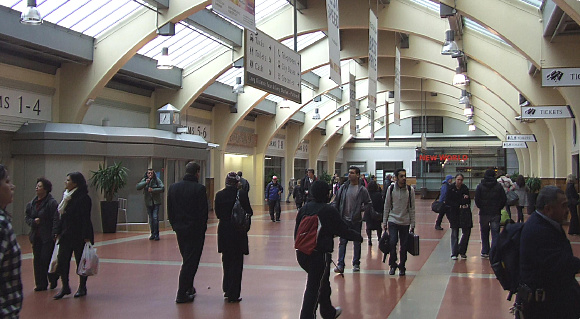 The clothing may have changed but the station remains a busy place seeing commuters, tourists and day-shoppers come and go hourly. Significant changes can be noted by the red "New World" sign at the back of this picture in the area once occupied by the luggage check and lost property department. "New World" is a nation-wide supermarket chain and this is the only example of a supermarket in a railway station to be found in the country.
Foto: Peter Wells, 12:30pm July 24th 2008.
Times, of course, have changed and while the main structure remains much as it has done throughout the years its inhabitants have changed considerably. As noted in the picture above a New World Metro supermarket was opened in December 2006 in what was originally the luggage check and lost property area of the station. The western wing of the building is now occupied by Victoria University of Wellington as part of its "Pipitea Campus" and my slightly whiffy men's toilets have been replaced by a popular restaurant and bar, significantly named "Trax". The booking hall is no longer used for the purpose of selling tickets but is now occupied by a bag and luggage shop as well as a coffee kiosk and Lotto outlet attached to the supermarket. Significant renovations and a makeover have brought the building back to its original pristine condition and with a boost in railway commuter patronage with the recent increase in fuel prices Wellington Railway Station is no doubt set for another 70 years of busy use.
© Peter Wells, Wellington, New Zealand