Series 4, Part 10
The Cemeteries of Wellington
A respect for those citizens of Wellington who now lie permanently and peacefully, within its boundaries.
"For most the grave is an honourable end to a good and just life,
While for others it is a tragic reality come too soon,
An unexpected and sudden destination.
Some welcome it as an untimely escape,
When no other solution answers the cause.
For all, however, it is an inevitable and inescapable end."

© Peter Wells, Wellington, New Zealand
Those who came to Wellington and to New Zealand in the early days came here to make a difference. Their vision was of a new life and a new society free from the poverty and shackles of aristocratic and class-conscious Britain. Once here the lives that they once knew would change beyond measure, the principles by which they once lived would adapt, mellow and blend into a society as cosmopolitan as the varied races and cultures of which it would be formed. These people, our forebears, now lie within the folds of our hills, amongst trees, on hillside and in valleys, their markers - of marble, frequently of concrete and sometimes of wood - remain to mark their time on earth. While still obviously British in nature, the colonists brought much that was good about English society, willingly leaving behind that which they had come here to escape. One concept that they did bring, a new idea at the time in Britain, was for a single, shared town cemetery. In the past graveyards were associated almost exclusively with places of worship and the idea of mixing those of different religions and beliefs, even in death, was quite unique. In 1840 Bolton Street Cemetery was set aside on the outskirts of the city with an entrance from Bolton Street in the south and Sydney Street to the north. Other cemeteries have been established over the years and, of course, there are cemeteries which serve the city and its suburbs today. Let us look, however, at these early burial grounds thankfully protected as historic places for all to enjoy, experience and lean from.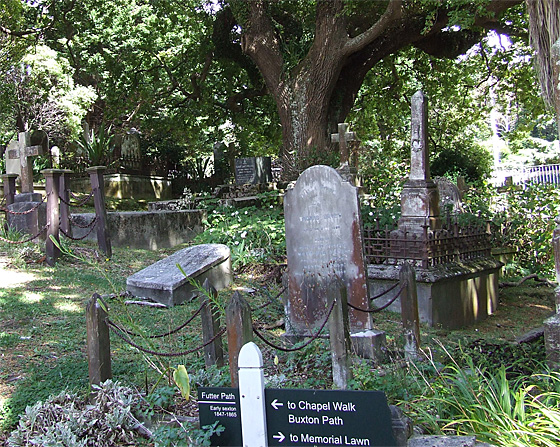 Partially overgrown, peaceful and serene, it is hard to imagine that this image was taken in the centre of Wellington city. Bolton Street Memorial Park, once Bolton Street Cemetery, is the original cemetery for Wellington, now closed to interments but always open to the public to enjoy, to relax, to reflect and to remember. Photo: Peter Wells 2011
Bolton Street Memorial Park

The first cemetery to cater to the burial needs of Wellington, Bolton Street, originally lay on the outskirts of the township and was established on the concept of a single, shared town cemetery to serve all of the colony's inhabitants. The establishment of a 'town cemetery' for all burials regardless of religion was a concept embraced by the New Zealand Company who sought to establish a new society in New Zealand. Once the area had been approved by the then Governor of New Zealand, William Hobson, as a non-sectarian burial reserve interments began in early August 1841. Many of the records from that time do not exist or are sketchy and although the location of most graves sites is accurately known there are some which will never be confirmed. Early grave markers were often of wood and these have long since rotted, however, once marble became more readily available, more substantial grave markers began to appear and these, and the later ones of concrete, now serve to mark more accurately the exact spots where the early dignitaries and citizens of Wellington were buried. A stroll through the gentle rolling area of Bolton Street Memorial Park, always a pleasant experience on a fine day, serves as a stroll through the early history of Wellington. One passes the graves of the likes of Dr John Dorset, an early Colonial Surgeon; of Baron Charles Von Alzdorf, killed when his "indestructible" brick hotel collapsed in the 1855 earthquake; of bibliophile and entrepreneur Alexander Turnbull and ultimately of the founder of Wellington himself Edward Gibbon Wakefield. Amongst these immediately recognisable names we find citizens, servicemen and families whose role in building and shaping the capital city of New Zealand, while largely unsung, was no less important than those whose names have become a recognisable part of our history.
Significant changes have occurred in the cemetery over the years. Regardless of the liberal approach the colonists had initially taken, there grew amongst residents of differing beliefs an insistence on maintaining separate burial areas and in 1851, following some controversy, the cemetery was split into three faith-based divisions. These divisions became known as Bolton Street Cemetery (for Anglican or Church of England burials), Sydney Street Cemetery (a public cemetery for "non-conformists") and a separate Jewish Cemetery. Although no physical evidence of this division remains today it becomes all too obvious when one is aware of the location of grave markers, grouped as they are in various parts that now make up Bolton Street Memorial Park. In 1892 the cemetery was closed to new interments in favour of the new "town cemetery" in the western hills at Karori, the single exception being to relatives of those already buried there. A quick scan through the list of burials at Bolton Street reveals interments as recently as 1998. In the 1960s an event occurred which must be considered the most catastrophic in the 171 year existence of the cemetery. The new urban motorway was being planned to provide direct route into and out of the city through its northern suburbs. The cemetery is located within the cities northern suburbs and the red pen of progress was ruled directly through its centre. The debate was furious as many viewed this as a desecration of one of Wellingtons oldest and most hallowed sites. Governments being what governments are, however, it was decided that the motorway should go ahead and between 1968 and 1971 the cemetery was closed while 3,700 burial sites (many newly discovered during this disruption) were exhumed. Most of these remains are now buried in a large vault beneath the "Early Settlers Memorial Lawn" while others, at the request of relatives, were re-interred at Karori or modern-day Makara cemetery. In my own opinion I believe it would have been equally as cost effective to tunnel under the cemetery, saving grief and heartache and the desecration of an historic site. Today a narrow aerial walk-way joins both halves of the cemetery, an umbilical perhaps, to join the parts that mankind has split apart?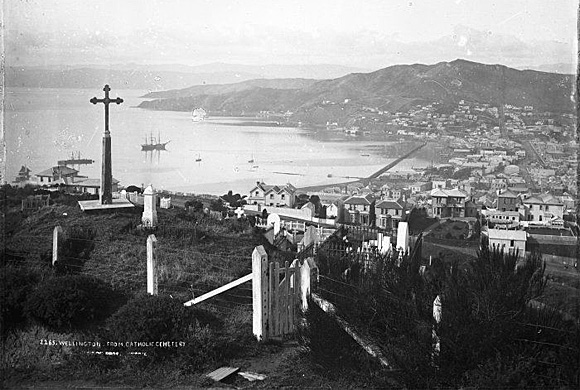 Looking east over Wellington city and harbour from Mount Street Cemetery during the 1886-7 reclamation. Photograph taken by the Burton Brothers. Reference Number: BB-2265-1/1-G. Permission of the Alexander Turnbull Library, Wellington, New Zealand, must be obtained before any re-use of this image. Once outside the boundaries of the township, the Roman Catholic Mount Street Cemetery is now encircled by the city. This photograph is taken from approximately the location of Victoria University. The cemetery, now sheltered by mature trees and protected by the Historic Places Trust of New Zealand, offers relaxation, contemplation and solitude to university students during their breaks. I myself, while at university, sat amongst its gravestones to read and study and today, as I occasionally walk its steep paths, I re-live once more the relative freedom of being a student.
Mount Street Cemetery

The first Roman Catholic cemetery in Wellington was consecrated in Wellingtons early years by Bishop Jean Batiste Francois Pompallier. The New Zealand Gazette and Wellington Spectator of January 9th, 1841 states that "The Catholic Bishop sailed on Thursday in the 'St Marie' for Akaroa. While here he consecrated about three acres of the public cemetery for the use of his flock; and we hear a considerable sum has already been subscribed towards the erection of a church." I believe this reference to be to the consecration of the Roman Catholic portion of the shared town cemetery at Bolton Street. Some years later, as with other faiths in Wellington, the Roman Catholic church sought its own cemetery and established Mount Street Cemetery on the hillside below Kelburn. The first burial took place there in 1851 and, as with Bolton Street, it remained open until 1891 closing to further interments unless in existing family plots, a practice which ceased in 1954. Unfortunately only around 200 headstones survive in the cemetery today but it has been estimated from records that between 750 and 800 burials actually took place at Mount Street. One reason for this discrepancy could be that many of the early markers were of wood which have simply vanished over the years. People from a wide range of different ethnic backgrounds are buried in the cemetery indicating the diverse range of settlers who came to Wellington in the early days. Catholics from Ireland, England, France, Italy, Scotland, Wales, Austria, Germany and Poland as well as some local Maori lie side-by-side on this steep little hill above the city echoing, perhaps, the diverse cultures of the students who attend Victoria University above the cemetery. The location is protected by the Historic Places Trust of New Zealand.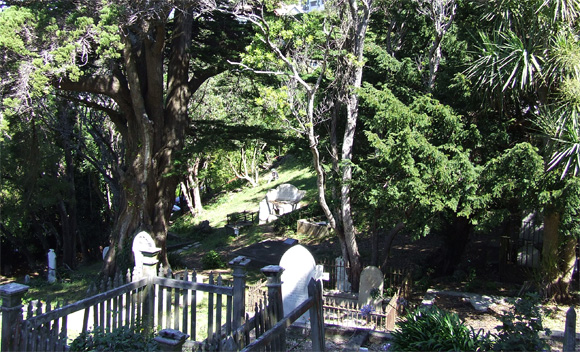 Taken on a sunny mid-week afternoon, this image of Mount Street Catholic Cemetery shows the steep terrain on which it is situated. To the right and above is the campus of Victoria University from which I can hear the happy chatter of students at leisure. Accents, cultural differences and cultural dress abound. To the left and below can be found the streets of Wellington city, busy, noisy and bustling but from this distance a low and unobtrusive hum. Photo: Peter Wells, March 2011
Karori Cemetery

Situated in the western hills above Wellington, Karori Cemetery covers an area of 35.5 hectares and contains 35,000 plots comprising approximately 75,000 interments. As the existing Wellington cemeteries were full to bursting point, and by this time surrounded by residential housing, there was a need for the City Council to seek vacant lands further afield for the purpose of burying its dead. In a letter to the editor in the New Zealand Times of June 20th 1881 a citizen living near the Bolton Cemetery echoed public sentiment when he wrote " It is not a pleasant thing to witness funerals from your window day by day, much less to hear when at meals, 'I am the resurrection, etc..." I can certainly see how this might spoil ones enjoyment of food. In 1890, following a call by the City Council for suitable vacant land, submissions were received offering to sell the council land in Khandallah, Melrose and Karori. The land chosen was that in Karori, a family estate named Rosehaugh, which belonged to my Great Grandfather James Mackenzie, Surveyor General, and his brother Thomas, a future Prime Minister and High Commissioner to London. The brothers offered their land at the rate of £70.00 per acre which the council turned down as being too expensive, eventually having them agree to £42.00 per acre for 95 acres. The purchase was made official in early 1891. A road, partly funded by the Mackenzie brothers and partly by the council, was built up the hill to the cemetery providing much needed access between the city and the suburb of Karori for others who lived in the area. It was initially named, understandably, Cemetery Road but this name was later changed to Raroa Road, a thoroughfare that still exists extending off the end of Aro Street. James was also asked to name two nearby roads which were formed by the subdivision of the cemetery. One of these streets he named Rosehaugh Avenue after the family estate here and in Scotland and the other Seaforth Terrace after the location of the family clan in Scotland. In 1908 the central government passed the Cemeteries Act which, amongst other things, stated that an old cemetery could not close without a new site opening and, as such, in 1891/92 both events occurred. Bolton and Mount Street cemeteries closed and Karori Cemetery opened for business. The first person to be interred at Karori Cemetery was a baby named Frederick William Fish (better known as Fred Fish) who died at the age of 1 month and was buried on August 3rd, 1891. As regular use of the facility did not commence until 6 months later Fred lay alone in his plot at Karori Cemetery, a plot that remained unmarked until the cemetery centenary celebrations 100 years later.
Several structures were built within the cemetery grounds as would befit the purpose for which the land was now to be used. The first of these buildings was the sextons cottage, which by all reports was an elegant villa-like building with pointed arch windows. It was built at the entrance to the cemetery in 1891 on the site of the present-day cemetery office. A shelter for mourners, which still stands today, was also built during the early years and became locally known as the "Jewish Chapel" because of its proximily to the Jewish section of the cemetery. One of the most important early structures was the brick crematorium and chapel designed by prominent Wellington architect John Sydney Swan and built in 1906. The structure, classified as a Category 1 site by the Historic Places Trust of New Zealand, is still in use today as a chapel for small services and as a functioning crematorium. It was the first crematorium established in the Southern Hemisphere at a time when cremation of the dead was received with little enthusiasm, particularly from the various religious denominations. Over the years, however, cremation gradually gained popularity and acceptance rose from 0.6% of total interments in 1909 to over 50% by the middle of the 20th century. Our family members are all there, our parents, grandparents and in some cases great grandparents. As such Karori Cemetery is an enjoyable and peaceful place for us to visit. We drive or walk from one family member to another, tidying plots, placing flowers and removing overgrown vegetation. A beautiful and peaceful place, Karori Cemetery, like its forerunner Bolton Cemetery, is now closed to new interments, available only to those who have pre-purchased or family plots and to childrens plots.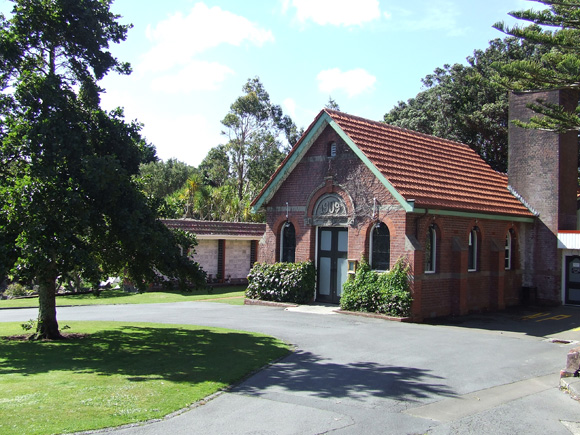 The original chapel and crematorium at Karori Cemetery, built in 1909 and still used today it carries out approximately 450 cremations a year. Over a period of 25 years six of the original windows (three on either side wall) were replaced by stained glass windows manufactured at the "An Tur Gloine" (Tower of Glass) factory in Dublin, Ireland. To the left of the chapel is part of the original "Ashes Wall" which extends around to the rear of the building. On the hill above and behind the chapel is the newer and larger Karori Chapel, built to hold up to 140 people when it became obvious that the original chapel was no longer large enough.
Photo: Peter Wells, March 2011
Makara and other modern cemeteries

As we know, New Zealand law prevents one cemetery closing before another site is opened. By the 1950's Karori Cemetery had nearly reached capacity and there was a need to establish another principle cemetery for the city. During the 1940's the Council began looking for a suitable location not too far from Wellington but outside the boundaries of any Borough or Town District. The council of the day settled on 84 hectares at Makara, 13 kilometres to the west of Wellington city. From 1965, when the first burial there occurred, Makara has been the principle cemetery for Wellington. Being located some distance away to the west, the cemetery was initially considered to be bleak and windswept location and its beautification to make it a more pleasant setting is on-going. With 84 hectares of open space, 10 hectares of which is currently in use, Makara Cemetery should fultill the interment needs of the Wellington region for some decades to come. Wellington's northern suburbs of Wellington are served by other cemeteries at Taita, Akatarawa and Wainuiomata in the Hutt Valley and Whenua Tapu, north of Porirua for the west coast.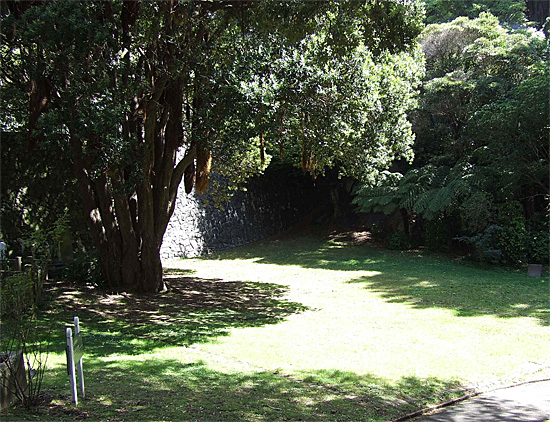 "Early Settlers Memorial Lawn", the area within Bolton Street Memorial Park beneath which rests the vault built to hold the remains of 3,700 former citizens who lay in the way of progress and lost. During the Summer months the lawn is often used for relaxation, for picnics, for contemplation and, as in this case, for exercise. In the rear corner will be seen an ancient Pohutukawa with its pendulous clumps of air-roots dangling from its branches. Photo: Peter Wells, March 2011
© Peter Wells, Wellington, New Zealand