Series 4, Part 4
From the Collection of Alexander Horsburgh Turnbull
Exceptional libraries endure because of their ability to link the past to the present and to the future. Such is the library of Alexander Turnbull, a collection unmatched anywhere in the world and of which every New Zealander should be immeasurably proud. This story is dedicated not only to its founder but also to all those who maintain and enrich the collection. To the past and present staff of the Alexander Turnbull Library, thank you.
"When I step into this library, I cannot understand why I ever step out again."
Marie de Sevigne - French Author 1626 to 1696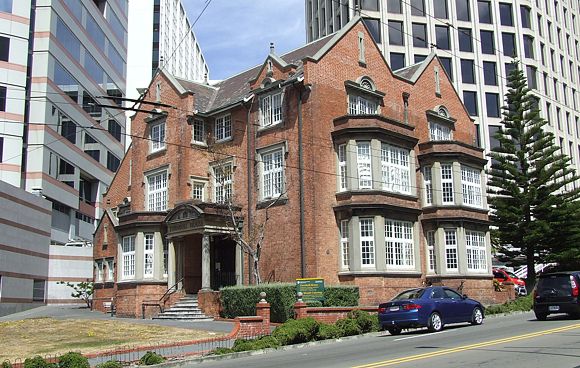 Turnbull House, Bowen Street, Wellington, New Zealand. This is the purpose built building ordered by Alexander Turnbull to house himself and his vast collection of some 55,000 books. Its rustic brick facade provides an oasis of warmth within a city of lifeless high-rises and of cold steel and glass. Foto: Peter Wells, 2009
In the older part of Wellington, abreast Parliament Buildings and the Beehive and just above where the waters of Lambton Harbour once touched the shore, is a small but impressive brick building named Turnbull House. Completed in 1916 at the instigation of Alexander Horsburgh Turnbull, it was a purpose-built home for both himself and his extensive collection of books, artworks and manuscripts which, by design, took up most of the room inside. The house-come-library is located on what remains of Elibank, the Turnbull family estate that once extended down lower Bowen Street from Wellington Terrace (now called "The Terrace") to Lambton Quay, and it was here that Alexander spent the last years of his life. Coincidentally it was also next door, at the newly constructed Bowen Hospital, for which the land of Elibank was sold that Alexander was to spend his final hours. Now in possession of the New Zealand Government, Turnbull House is, as Alexander would have wanted, a largely public venue. As well as housing a restaurant it provides a favourite venue for local community groups, rooms for training and conferences for local corporations, as well as a popular location for weddings and other celebrations. I have visited Turnbull House on a number of occasions and for various reasons and invite all who find themselves in Wellington, be they tourist or resident, to walk its halls and climb its stairs and to absorb the essence of this wonderfully historic residence. The Alexander Turnbull Library was, until the mid 1970's, quartered within Turnbull House. Now, within a skip and a jump of Turnbull House, the collection is housed in the National Library of New Zealand building in Molesworth Street.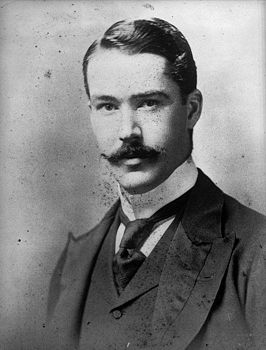 Alexander Horsburgh Turnbull. Reference number: 1/2-032603-F. Permission of the Alexander Turnbull Library, Wellington, New Zealand, must be obtained before any re-use of this image. The unique, the elegant and the very genteel Alexander Horsburgh Turnbull. In this portrait one sees the meticulous style that typified the man, but Turnbull was certainly no dandy. In fact he was a man who appreciated the finer things in life and was blessed with the money to enjoy them, passing his library to the people of this nation in a selfless act of generosity.
"On the 14th inst., At Dixon-street, the wife of Walter Turnbull, Esq., of a son" (Evening Post, September 15th, 1868). It is this brief announcement in the Wellington newspaper that heralded the birth of the man whose passion and foresight was to give rise to the Alexander Turnbull Library. Alexander Horsburgh Turnbull, was the sixth and youngest child of Walter and Alexandrina Turnbull (nee Horsburgh). Having emigrated to the New Zealand in search of new commercial opportunities, Walter and Alexandrina arrived in Wellington from Scotland on November 12th 1857 by the ship John McVicar. Walter Turnbull formed half of the prosperous Wellington firm of merchants, W & G Turnbull, teaming up with George Turnbull who, interestingly enough, was not related to the family. To the immense benefit of the family the business prospered and many are the shipping lists we have seen which mention "W & G Turnbull" as agents for the cargo on board. Initially the family lived in Thorndon, the more stylish part of Wellington, before moving to Dixon Street in the commercial heart of the city and it was here that Alexander was born. In 1869 Walter acquired the estate called Elibank, a two-storied, ten-room house on 3/4 of an acre in what is now the financial and political centre of Wellington. It was described at the time as "one of the most convenient and best situated properties in this city" (Wellington Independent 1869). Close to the wharves, to Parliament and to the then corporate sector of the city, it was an appropriate place for the Turnbull family to reside. The commercial interests of Walter Turnbull within Wellington and the world were extensive, his companies trading in shipping, insurance, food stuffs and drapery while his property interests amounted to almost £70,000. The family was extremely well off and the wealth and a fascination with literature inherited by Alexander would ensure his comfort, one way or another, for the rest of his life.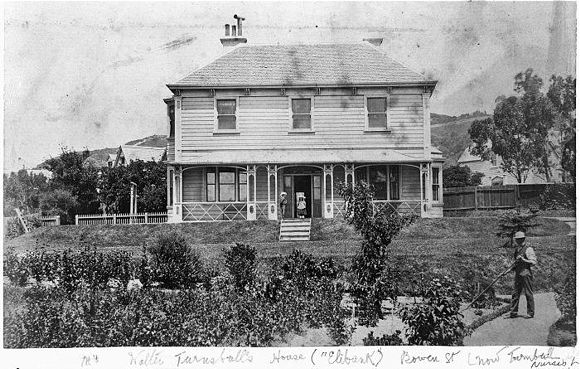 "Elibank", the home of the Turnbull family in Wellington. Reference number: PAColl-3373. Permission of the Alexander Turnbull Library, Wellington, New Zealand, must be obtained before any re-use of this image. "Elibank" was a two-storied, ten room house built on three-quarters of an acre. As is noted on this photograph, the house eventually became the nurses home and was attached to Bowen Hospital which was built on the site once after it had been sold by the Turnbull family in 1912. It was in Bowen Hospital that Alexander Turnbull died in 1918.
Alexander spent a brief and uneventful portion of his formal education at a school in Wellington (probably Thorndon School in Sydney Street, a short walk from their home) but, as was the custom common to wealthy families of the day, the Turnbull children were sent "Home" to England to pursue their education. During this time Walter and Alexandrina made several return journeys between New Zealand and England until, in 1875, Walter established his family in London and returned alone to manage the business in New Zealand. After attending day school for a period, Alexander entered Dulwich College in 1881 where he was a somewhat average scholar, excelling in nothing apart from mathematics and certainly not in the literary arts that one would expect given his future passion for collecting books. In 1884, having left college, Alexander worked at the newly opened London office of Turnbull, Smith & Co, the drapery arm of W & G Turnbull, where Alexander may very well have acquired his predisposition for fine clothing. At the end of 1884 accompanied by their parents, Alexander and his older brother Robert visited Wellington for a period of some four months and then again, in late 1885, Alexander and his father sailed for New Zealand by the SS Doric, arriving in Auckland on January 19th 1886. The respect accorded Walter and his family by Wellingtonians was reflected in an observation in the Evening Post for January 20th 1886 - "We notice with pleasure that our fellow townsman Mr Walter Turnbull has returned to the colony. He, his son (Mr A H Turnbull), and Mr Cock, formerly of Nelson, who is about to join the firm of W & G Turnbull & Co., are passengers by the Doric, which arrived at Auckland yesterday afternoon." On the journey out Alexander had read the book "The King Country; or, explorations in New Zealand (1884)" by J H Kerry-Nichols. Alexander was to later write on the fly-leaf of this book "This was the first book of my collection" and so, with one book and a hankering after the country of his birth, the life-long obsession began. In fact it was one of Alexander's habits to notate books in his collection, usually as he pondered the theme or subject matter while he read. One very early example of this habit is shown in a volume of Milton's "Comus, Lycidas, L'Allegro, Il Penseroso and Selected Sonnets" presented to Alexander during his attendance at Dulwich College.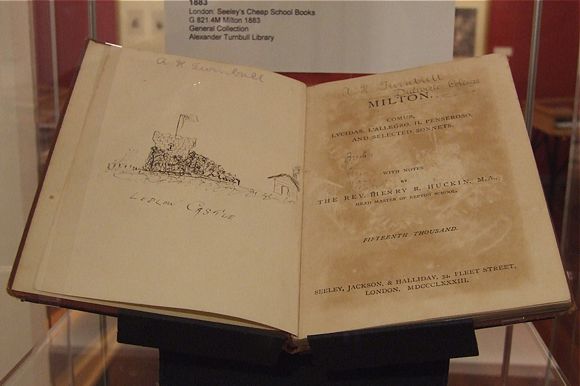 The first of Turnbull's "Pandemonium", his copy of Milton's "Comus, Lycidas, L'Allegro, Il Penseroso and Selected Sonnets". Pandemonium, meaning "all the demons" was a term coined by Milton and since applied to any collection of Miltonia. The Turnbull Library houses one of the finest collections of the works of John Milton in the world and it has been suggested that the urge to collect, so aptly described by Turnbull as "...that fascinating folly...", may be akin to the irrational forces of pandemonium. Note the drawing of the ruined Ludlow Castle on the fly-leaf.
Foto: Peter Wells, 2009
In May of 1888 Turnbull, Smith & Co, the division of his fathers extensive commercial empire for which Alexander worked, was sold to Sargood, Son & Ewen of Dunedin. Once the family returned to live in New Zealand in 1892 Alexander, free from the need to work and having youth and wealth on his side, was at liberty to pursue his passion for collecting as well as his other interests of travel, reading, yachting and engaging in an appropriate social life for which he had every opportunity in the new colony. As his collecting gathered pace, Alexander developed and honed his abilities as a bibliophile while the resulting increase in his knowledge enabled him to readily identify the specific fields in which he wanted to collect. His prime focus was for a New Zealand collection of "...unique works, manuscripts, early newspapers, pamphlets, early sketches..." which should be "...as complete as possible....all inclusive." While Alexander directed much of his energy towards collecting everything he could relating to New Zealand he also channeled his efforts into several other chosen areas of literary collecting. These included sea voyages, the histories of South Pacific countries with particular reference to New Zealand & Australia, the history of Scotland, art, manuscripts and pamphlets, poetry - particularly that of John Milton - autographs, letters, logs and journals while he also collected Maori and Pacific artifacts and clothing. In short Alexander H Turnbull was a collector with passion, a collector extraordinaire whose energies gave rise to one of the most recognised reference libraries and collections in the world. Whilst by international standards the Alexander Turnbull Library is small, it is nonetheless home to a large number of unique volumes and articles which can be found nowhere else in the world. I myself have had the experience several times of accessing material for overseas researchers who have found that, for a given publication, the Turnbull Library holds the only publicly available copy in the world. It has been stated that at least one third of the libraries holdings could never be replaced since so many items are unique or excessively rare making the Alexander Turnbull Library a Shangri-la for the historian, the bibliophile and the lover of pure literature.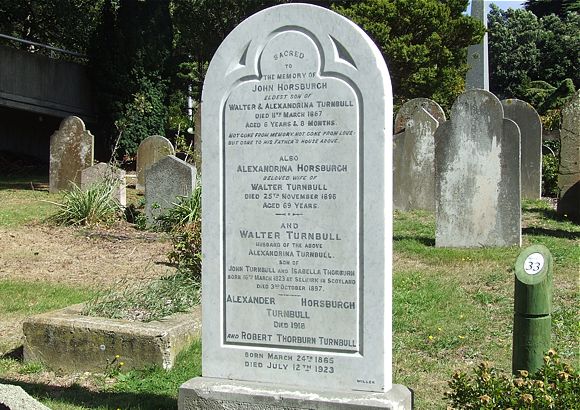 The Turnbull family gravestone in Bolton Street Cemetery, Wellington. Unfortunately the remains of the Turnbull family do not lie here but in a common grave further over beside the Wellington motorway. Walter Turnbull and his family, amongst the remains of more than 3,000 others, were removed from their places of rest to make way for the 6 lane urban motorway. Such is the sacrilege of progress. Foto: Peter Wells, 2009
In the Evening Post of October 4th 1897 appeared the simple notice "Turnbull - On 4th October, 1897, at his residence, Bowen-street, Walter Turnbull; aged 74 years." Alexandrina Turnbull had died a year before her husband and so, with the death of his father, Alexander assumed full control of the firm of W & G Turnbull. He found managing the firm a somewhat different experience from being employed by it once stating that "...instead of being ordered about, I order, and I find that the latter is much the harder office to perform satisfactorily and wisely." Failing health - Alexander, like his father and brother, had a weakness for alcohol as well as reportedly having a liking for cocaine - and the downturn of the family business continued to put pressure on him and his finances. In 1912 the company was merged with one of its competitors effectively sidelining Alexander from any management responsibilities and the progressive deaths or departure of family members left him very much by himself. He withdrew into his world of book collection, his library and of his wish to make the resource he created available to others. Two years later a personal financial crisis compelled the sale of many of his assets, including the house of Elibank along with most of its grounds, the house to become a nurses home for the proposed Bowen Hospital to be built on the Elibank property. To house his library and himself Alexander commissioned the design and construction of a three storied brick building - the only New Zealand example of a purpose-built gentleman's residence and library - a building known for almost 70 years as the Alexander Turnbull Library before it was moved into the National Library building.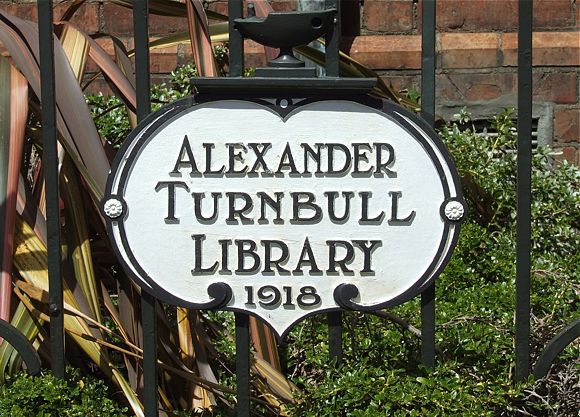 This fence plaque identifies the brick building behind it as the original Alexander Turnbull Library. This is the building conceived and built on the instructions of Alexander two years before his death and commissioned as such in the year of his death. They say that part of the beauty of Wellington is that it is a compact city and no more so than for the Turnbull family. A short distance up the road from Turnbull House and the site of Elibank is the gravestone for most of the family mentioning Walter, Alexandrina, their young son John, Alexander and Robert while within easy walking distance were the wharves, warehouses and commercial area of Wellington where Walter and his family plied their trade. Foto: Peter Wells, 2009
In the Evening Post for June 26th, 1918 a small item in the personal column advises that the "...many friends of Mr Alexander H Turnbull will be sorry to learn that there is no improvement in his condition.". This condition began in May 1918 when a sinus problem, possibly as a result of cocaine use, required that Alexander undergo minor surgery at the new Bowen Hospital next door to his residence. For some reason, possibly complications from the procedure, he returned to the hospital late the following month and, in the early hours of June 28th 1918, passed away and was laid to rest in the family plot on Sunday June 30th. Strangely enough, for a man who must have been very well known in Wellington, his death was somewhat less publicly proclaimed than his birth. There was no death notice in either of the daily newspapers and the only reference to his death was again a paragraph in the personal column the day after his funeral. The internment was to be private but this did not stop a large number of his close associates, friends and former employees attending to pay their respects. Such was the short life of Alexander Horsburgh Turnbull, a complex man, genteel and reserved perhaps happier in his world of collecting than in the commercial and social environment into which he was born. With his death and the subsequent bequest of his collection to "...His Majesty the King..." he gave to this country "...the nucleus of a New Zealand National Collection" which was not to be split up or loaned out but was to be at all times kept together. Rest well, Alexander as you have done well in your job to preserve this countries heritage. It is up to us to prove that we will continue to enrich what you began.
© Peter Wells, Wellington, New Zealand