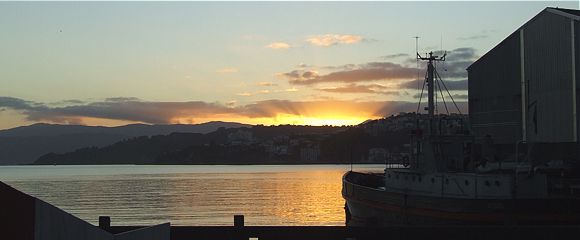 Wellington Harbour just before sunrise / Foto: Peter Wells, February 2007
Historic Wellington - Many of the stories about Wellington told on ZEITBLICK have a historical theme to them. Like many cities around the world, Wellington has a number of places, structures and sites which have an interesting story behind which often goes back to the actual origins of the city itself. In order to look into some of these origins Series Four of "City, My City" investigates the circumstances and the people who together brought them to reality.
Series 4, Part 7
The History of Wellington Prison
Whilst one might have hoped that a new colony such as Wellington, half a world away from the United Kingdom, might provide something akin to an earthly paradise - a South Pacific Eden - for those wishing to make a new start in life it became, in fact, a transplanted microcosm of its parent country. As such the early colonists brought with them their class structures, their religious and social beliefs and prejudices as well as the inevitable criminal element. Thus Wellington found an almost immediate need for a police force, a penal system and a prison. Obviously, as New Zealand was a colonial outpost of Great Britain, it was natural for the laws and legal framework of that country to be applied to the new colony. It was quickly found that, "Even in this Eden", there was a requirement for a justice system to protect the city from the inevitable criminal undercurrent.
© Peter Wells, Wellington, New Zealand