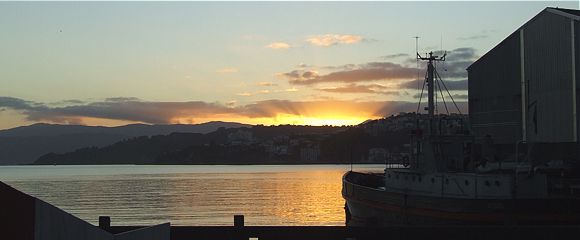 Wellington Harbour just before sunrise / Foto: Peter Wells, February 2007
Historic Wellington - Many of the stories about Wellington told on ZEITBLICK have a historical theme to them. Like many cities around the world, Wellington has a number of places, structures and sites which have an interesting story behind them which often goes back to the actual origins of the city itself. In order to look into some of these origins, Series Four of "City, My City" investigates the circumstances and the people who together brought them to reality.
Series 4, Part 8
Spying on the Stars - The history of Charles Rooking Carter and the Carter Observatory, New Zealand's "Place for Space"
Where best to look at the heavens than from the top of a hill where, in your imagination, you are closer to the stars, even if not physically nearer? In reality, though, the reason for building observatories high above the surrounding landscape is to escape the light pollution which, as cities and towns grow, becomes worse and worse. These were the places where early scientists and governments built those buildings whose purpose required as much absence of unnatural light as possible, ensuring a clear view of the heavens. In Wellington this location is up in the western hills near the top of the Cable Car. At this location may be seen a number of historic and modern buildings whose role over the years has been to record time and to map the stars and, more recently, to educate and enlighten both young and old. I don't know if this area has a name beyond the Botanic Gardens but if it ever did "Observatory Hill" might be appropriate.
© Peter Wells, Wellington, New Zealand