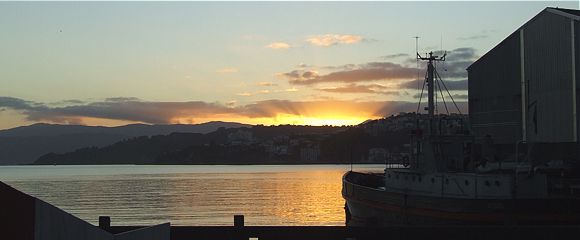 Wellington Harbour just before sunrise / Foto: Peter Wells, February 2007
Historic Wellington - Many of the stories about Wellington told on ZEITBLICK have a historical theme to them. Like many cities around the world, Wellington has a number of places, structures and sites which have an interesting story behind them which often goes back to the actual origins of the city itself. In order to look into some of these origins, Series Four of "City, My City" investigates the circumstances and the people who together brought them to reality.
Series 4, Part 9
Fortress Wellington - A partial history of the fortification of Wellington
and its harbour

Relics, ruins and historic locations are common to all countries around the world. Many countries may boast thousands of years of history and historic sites that hark back to those very early times while others such as the United States and Australia still measure their pedigree by a mere few hundred years. At a scant 170 years this makes New Zealand the "new kid on the block" and while we don't have ancient castles, crumbling ruins or buried treasure, we do have notable locations which mark key moments in our history. The fortified locations of Wellington, and by extension the rest of New Zealand, are examples of these locations and each of these, coupled with other significant sites built for different purposes, tells of important steps in the development of this nation. From the "apron strings" of colonialism to the obedience of dominion and the autonomy and complete independence of nationhood, New Zealand has won a respected place in the world and it has often been said that we are a small nation who "punches above its weight". The fortresses of Wellington, along with those in our other cities, are part of the development of this attitude to life.
© Peter Wells, Wellington, New Zealand