PAMIR represented the then peak achievement of sailing ship design and construction. She was constructed in Germany at the Hamburg yards of Blohm and Voss and launched on the River Elbe on July 29th 1905. Her career would span almost exactly 52 years. During her long career PAMIR was to sail under the flags of Germany, Finland, New Zealand and, briefly, Italy. Her life before and after the antipodean interlude have been well documented elsewhere but it is the love, respect, esteem and nostalgia surrounding this great ship and her association with New Zealand to which this plaque is dedicated.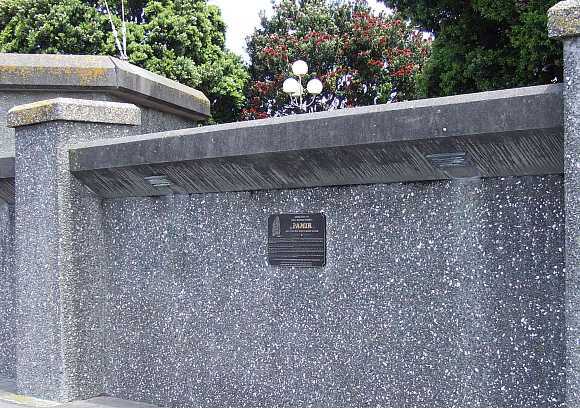 Waterside plaque commemorating the relationship between Wellington City
and Barque Pamir 1941-1948 / © Peter Wells 2005
Transcription of the Pamir Plaque:
"Dedicated to the 4 masted barque PAMIR and the men who sailed in her.
The steel 4 masted barque PAMIR was German built in 1905 for F. Laisz's "Flying P Line" of Hamburg. A powerful Cape Horn vessel she carried nitrate cargoes from Chile to European ports. In the 1930's she flew the flag of Gustaf Erikson of Mariehamn in the Finnish Aland Islands and was mainly employed carrying grain from South Australian ports to Europe, again via Cape Horn.
On 29 July 1941 PAMIR sailed into Wellington Harbour with a cargo of fertilizer from the Seychelles Islands and five days later was seized as a prize of war by the New Zealand Government.
Managed by the Union Steam Ship Company and commanded and manned by New Zealanders PAMIR made five voyages to San Francisco, three to Vancouver, one to Sydney and one to London and Antwerp before being returned to her owners on 12 November 1948. Flying the Finnish flag once more but crewed by New Zealanders PAMIR left Wellington for the last time on 1 February 1949.
As a German cargo-carrying auxilliary training ship PAMIR foundered in hurricane "Carrie" in the North Atlantic Ocean on 21 September 1957 with the loss of eighty of her crew of eighty-six.
"... FAR ACROSS THE SEA OF MEMORY WE CAN SEE HER YET- HULL DOWN ..."
Erected by the New Zealand PAMIR Association Sponsored by the Union Shipping Group Limited."
The circumstances surrounding the delivery of PAMIR to the care and custody of the New Zealand Government and the Union Steam Ship Company were rapidly moved by the dark storm-clouds of war towards their inevitable conclusion. These circumstances, unintentional as they may have been, led Finland to be regarded as "territory in enemy occupation" and as such an enemy in time of war. All Finnish ships within United Kingdom territorial waters were seized in prize and the British Government cabled its New Zealand counterpart urging them to act in a like manner. Thus started the eight year romance between New Zealand, New Zealanders and PAMIR, the effects of which continue to be felt to this day.
PAMIR was seized as prize by the Collector of Customs (Mr R. J. Gray) on August 3rd 1941. Notice was served on Captain Bjorkfelt at 4.45pm that afternoon and 6 days later, on August the 9th, a captivated public read an account in the Evening Post of this historic event. It was to be the only event of its kind to occur in the history of New Zealand and, as such, has immense historical significance. She was taken under the care of various official bodies and became the subject of legal issues for almost 5 months from the time of her seizure. As such she was not legally released to the Crown until December 9th 1941 and it was not until early February of the following year that she was prepared to take on her first New Zealand crew.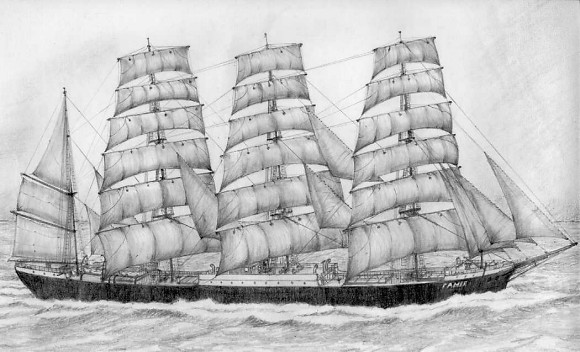 Drawn by Albert Finderup, a Deckboy aboard Pamir 1945 - 1946
Copyright: Albert Finderup
PAMIR was to make ten commercial voyages under the New Zealand Ensign, nine of which were to ports such as San Francisco, Vancouver and Sydney. The tenth voyage was a majestic circumnavigation of the world between October 1947 and October 1948. During her time in New Zealand, approximately 300 adventurous young New Zealand men had a love affair with a ship the likes of which had not graced the waters of Port Nicholson during their lifetimes. On board her they gained their seafaring skills in addition to confidence, self assurance and an instinctive regard for and appreciation of teamwork. Such names as Robert Howard, Albert Finderup, Murray Henderson, Graham Sheppard, James Lancaster, Maurice Reardon and Gilbert Inkster among many, many others will remain enshrined with the memory of this great vessel.
At 10am on Friday November 12th, 1948, PAMIR was officially restored to Finland and to the possession of her former owner Gustaf Erikson. With great solemnity Graeme Sheppard, a former Deck Boy, Ordinary Seaman and Able Bodied Seaman aboard PAMIR, lowered the New Zealand flag that had swung proudly above her stern for 8 years and replaced it with the flag of Finland. Fittingly, her former commander, Captain Bjorkfelt, flew out to New Zealand to sail PAMIR back to Finland.
The era of the commercially viable sailing ship had passed and PAMIR was laid-up until March 1951 when she, along with her sister and sometime rival PASSAT, were sold to a ship breaker in Antwerp. She was reprieved at the last minute and bought to be used by Germany as a cargo carrying training ship. It was in this capacity that, on September 21st, 1957, she sank in the teeth of a North Atlantic hurricane with the loss of 80 lives. For 52 years PAMIR had sailed the seas of the world, through two world wars and innumerable storms. It was the sea she loved and it was the sea which finally took her. An adventurer´s end.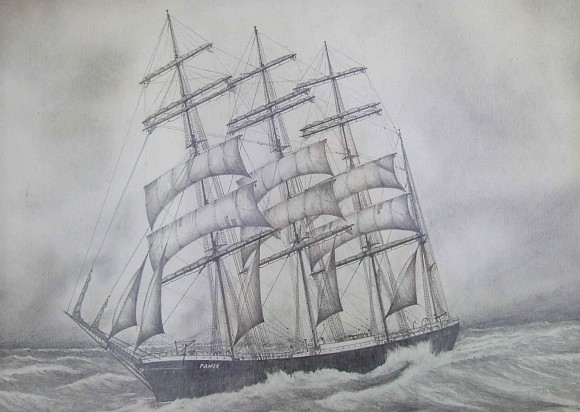 Drawn by Albert Finderup, a Deckboy aboard Pamir 1945 - 1946
Copyright: Albert Finderup
© Peter Wells, Wellington, New Zealand