City, My City - Series Two
By Peter Wells
Part 7
25 Infantry Battalion, 2NZEF
This story is dedicated to the late D K Mayo Snr, Ian Stewart, the late Mick Kenny, the late Sid Spicer and all those who bravely served with 25 Infantry Battalion of the New Zealand 2nd Expeditionary Force during World War Two.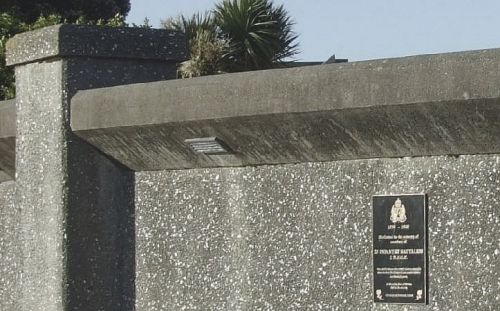 Plaque commemorating the soldiers from the Central New Zealand Provinces of Wellington, Taranaki and Hawkes Bay who served with 25 Battalion. These men willingly volunteered in time of global crisis to form 25 Battalion, 2NZEF during the Second World War. Foto: Peter Wells
Deep in the South Pacific lies a small island nation very reminiscent of "...England's green and pleasant land" and, ironically, as far removed geographically from England as one might be on this earth. With major cities such as Auckland, Hamilton, Wellington, Christchurch and Dunedin (the ancient form of Edinburgh) New Zealand was obviously once a colony of the British Empire at a time when red was the predominant colour on the maps of the world. Not that there was any great objection from New Zealand citizens of that time, but it was to take fully 100 years before New Zealand shrugged off the influence of Mother Britain, or the "Home Country" as it was so often known, and for its citizens to accept the fact that they were an independent, self governing country and as such an integral part of the global community. In general New Zealanders were happy, as indeed many still are, to be thought of as a fragment of British civilisation in the south seas and as a country which owes its very existence and culture to Britain. Had historical affairs in the mid-19th century charted a different course, as they almost did, New Zealand and its people would have been culturally very, very different. In addition, Britain was then a key market for New Zealand's agricultural exports and its loss would also have had significant and potentially crippling economic impacts on the country.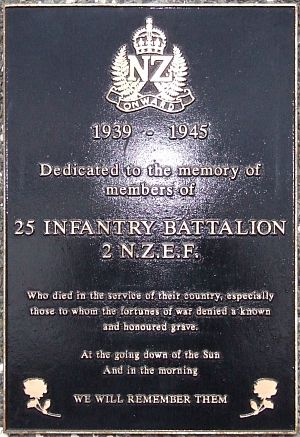 1939 - 1945 Dedicated to the memory of members of 25 Battalion 2 N.Z.E.F
who died in the service of their country, especially those to whom the fortunes
of war denied a known and honoured grave. At the going down of the sun,
and in the morning, we will remember them. Foto: Peter Wells
It is for these reasons that New Zealand troops have stood unflinchingly alongside Britain throughout the Boer War and both World Wars, and for which reason, at the onset of hostilities in 1939, Michael Joseph Savage, New Zealand's Prime Minister, boldly spoke on behalf of his countrymen when he said "Where Britain goes, we go! Where she stands, we stand!". With these prophetic words New Zealand troops were once again committed to far-away battlefields and to fight in a war which, in those early stages, was taking place on the far side of the world. For the second time in a quarter of a century the storm clouds of war were gathering in Europe with the fascist ideal delivering brutal leaders to power in both Germany and Italy. Although very distant from this growing evil, New Zealanders had become very vocal opponents of such dictatorial doctrines, believing that any acceptance of such an oppressive form of government was at odds with the freedoms they themselves enjoyed. Kiwis were willing to stand behind the rest of the free world in a strong show of force which was well supported throughout the country.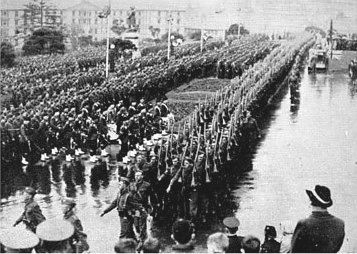 Farewell parade for 25 Battalion along Lambton Quay, Wellington
past Parliament Buildings. Old Government Buildings
may be seen in the background. © C Boyer
So it was that New Zealand once again prepared for war and the call went out for volunteers to form military units throughout the land. On May 15th 1940 large numbers of volunteers from the central provinces of Wellington, Taranaki and Hawkes Bay arrived at Trentham Military Camp in the Hutt Valley, north of Wellington, at that time the training camp for the Central Military District. This influx would constitute 25 Battalion and join similar units being formed in Auckland, Hamilton and Christchurch to form the Third Echelon of the 2nd New Zealand Expeditionary Force (2NZEF). Four intense months of training and equipping followed for these new soldiers during which time they were to be transformed from eager and resolute civilian-soldiers to fully trained, if not yet battle groomed, soldiers. One striking change which marked the transformation from civilian to soldier was the right to wear the full battle dress of a front line soldier. During training, and because New Zealand had changed abruptly from a peacetime to a wartime economy, uniforms had been in short supply and recruits were required to train in denim jackets and trousers. The wearing, at the completion of basic training, of full battle dress was therefore ample compensation for the times of hard toil during the southern winter months of June, July & August.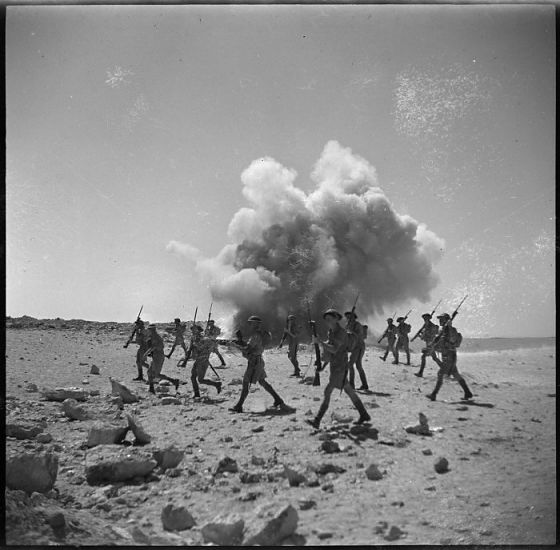 World War 2 New Zealand troops training under service conditions in Maadi, Egypt ca. 10 Oct. 1941. Reference number: DA-02096-F Permission of the Alexander Turnbull Library, Wellington, New Zealand, must be obtained before any re-use of this image.
25 battalion troops advance under "combat conditions" during training at Maadi Military Camp, Egypt. One must assume that, had they been under enemy fire, evasive action would have been more obvious.
On August 17th, 1940, led by its commander Lieutenant-Colonel A S Wilder, 25 Battalion marched through the streets of Wellington its men now proud of their newfound proficiency as soldiers of the New Zealand Army and of 25 Battalion. Ten days later 25 Battalion embarked for Egypt on board the former Cunard liner Mauretania where further training, under very different conditions, was to take place in the vast expanse of Maadi Military Camp outside Cairo. It was here that the soldiers learned to handle, and fight with, a wider range of weapons including mortars, the highly accurate Bren light machine gun, a range of anti-tank weapons and the American Thompson sub-machine gun. Attack tactics and tactical maneuvers were improved, many of these drills being held under "live firing" conditions to accustom the soldiers to the battlefield. As most of these new soldiers had never been out of New Zealand this was all a great and exciting adventure, particularly when they had their first venture on leave into the exotic city of Cairo on October 5th, 1940. Christmas Day, too, was to be a different experience and for the majority it was their first Christmas spent away from their loved ones and from their homeland, felt most acutely by the married men.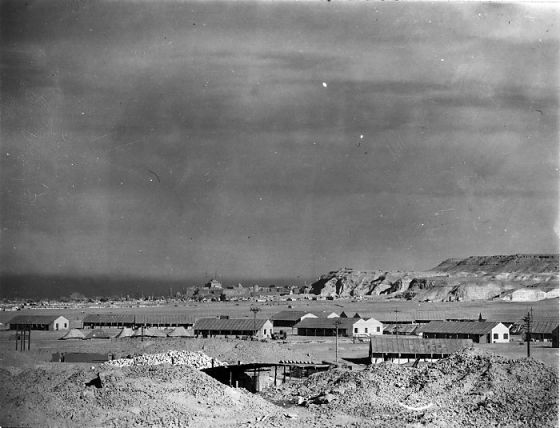 Maadi military camp, with Cairo in the background [ca. 1841]. Reference number: DA-11253 Permission of the Alexander Turnbull Library, Wellington, New Zealand, must be obtained before any re-use of this image.
Maadi Military Camp, south of Cairo in Egypt, where 25 Battalion received final training before taking part in hostilities against German and Italian troops in the Mediterranean theatre of war. 25 Battalion fought in Greece, Libya, Egypt, Tunisia and Italy between 1841 & 1845
Greece
On March 6th, 1941, the New Zealand Division, including 25 Battalion, commenced the move from Egypt to Greece which had been attacked by Italian forces and was now threatened by Germany. In conjunction with British forces it was hoped that this move, while standing little chance of outright success, would encourage Yugoslavia and Turkey to enter the war against the Axis powers. Initially with their Greek allies the New Zealand & British forces were able to hold off Italian advances with some excellent successes, but the advent of German troops into Greece from April 6th, 1941 put a whole new slant on the Allies' prospects of success. The better equipped and armed German troops, supported by units of the Luftwaffe, were eventually able to win the day. Although Germany was to claim victory in Greece, the cessation of hostilities was due more to the tactical withdrawl of Allied troops rather than their defeat. In scenes reminiscent of Dunkirk, Allied soldiers waited on the beaches of Greece to be evacuated to waiting craft off-shore and taken back to North Africa to lick their wounds and prepare to fight another day.
North Africa (Egypt, Libya, Tunisia)
The movement of troops and supplies to defend Greece had seriously depleted the Allied presence in North Africa which, with the exception of a garrison holding Tobruk to the west in Libya, had been compelled to withdraw east to the Egyptian border. Egypt was once again under threat of invasion and the outlook in other theaters of war was looking bleak. It was doubtful, however, that this gloomy outlook had an effect on the spirits or morale of the men of 25 Battalion who continued tactical and weapons training and took part in measures designed for the immediate defence of Cairo. On November 18th, 1941 25 Battalion, with the New Zealand Division and British units, crossed the border into Libya with the intention of destroying the enemy's armoured forces and relieving the Tobruk garrison. During the North African Campaign 25 Battalion was involved in the decisive battle for El Alamein in Egypt in 1942 and, after several reverses relieved Tobruk on November 13th 1942. After the success at Tobruk and the capture of Tripoli on January 23rd 1943, 25 Battalion was to continue its advance west into Tunisia where British and American troops were to link up and on May 13th, 1943, the Axis troops in North Africa surrendered.
Italy
The Italian war effort had been collapsing all over the place and Italy's fascist government was reliant on Germany to step in and help it re-establish power. On September 11th the German army occupied Rome following which they helped Mussolini restore his seat of power in the north of the country. Allied troops had landed in Italy early in September to counteract this new threat and early on the morning of October 6th, 1943, the 2nd New Zealand Division, known affectionately as The Div and including 25 Battalion, sailed from Egypt to Taranto in Southern Italy. From Taranto The Div moved north to Bari on the Adriatic coast which was to serve as the main New Zealand base for troops arriving in Italy for the duration of the war.
25 Battalion was assigned, along with other New Zealand units, to march north and attack the eastern end of the German defensive line named the Gustav Line, dividing Italy in half just north of the Sangro River. Repeated attacks by the Allies throughout December 1943 proved that the Germans were immovable and this, coupled with the approaching winter, caused the offensive to grind to a halt. After enjoying a very brief rest, The Div was called on to participate in a new attack on the western coast of the Italian mainland at the town of Cassino, the very mention of which rouses emotions of pride, bravery and despair in the hearts of many a New Zealander and, for the New Zealand soldiers, was the most tragically elusive prize of the entire Italian Campaign.
Success for the Allies, and the invasion of Rome, lay through the Liri Valley which was overlooked by the 500 meter high monastary of Monte Cassino above the town of Cassino. A well-fortified German stronghold, described as a "defender's dream and an attacking army's nightmare", Cassino had already beaten the American 5th Army but now the role of opening access to the Liri Valley fell to the lot of the New Zealanders in conjunction with the 4th Indian Division. Heavy bombardment, during which Monte Cassino itself was all but destroyed, attempted to soften up the occupying forces but most of the defenders survived and over the next 8 days wave after wave of attacks by the New Zealanders and Indians were repulsed by the German troops hidden in the maze of rubble that was now Cassino. In early April following this bitter setback the New Zealand Division withdrew from the area of Cassino which eventually fell to British and Polish troops in May 1944, with the assistance of New Zealand artillery.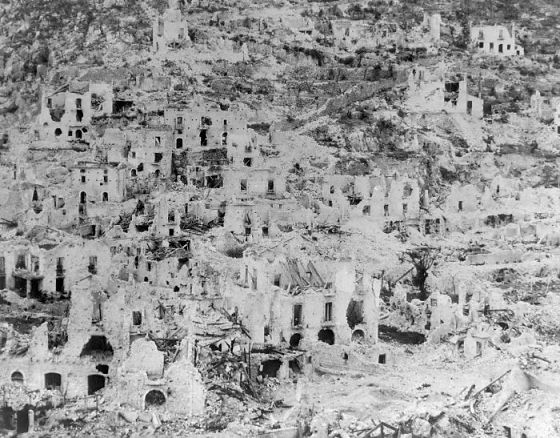 The town of Cassino, Italy, after the World War 2 bombing [ca. 1944]. Reference number: DA-09511-F. Permission of the Alexander Turnbull Library, Wellington, New Zealand, must be obtained before any re-use of this image.
The shattered town of Monte Cassino allowed many hidden positions from which the Germans resisted every effort by New Zealand and Indian troops.
The allies entered Rome on June 4th 1944, two days before the invasion of Europe, and the main role of those troops remaining in Italy was now to engage German forces remaining in Italy to ensure they were not diverted for the defence of France. 25 Battalion, along with The Div, continued fighting north through mainland Italy arriving eventually, and in the nick of time, at Trieste on May 2nd 1945 near the border with Yugoslavia. Trieste was a disputed city, long claimed by the Yugoslavs and for a period of time it was jointly occupied by Yugoslav and New Zealand troops. Eventually in mid-June the Yugoslavs withdrew, allowing the New Zealand soldiers an opportunity to relax.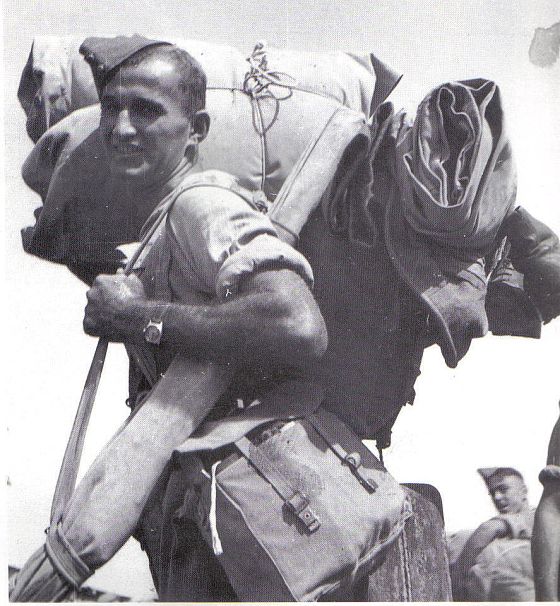 The archetypal New Zealand soldier; casual demeanour, a keen grin, tanned appearance and sleeves rolled up to tackle just about anything. "Good on yer mate". Copyright unknown.
Having done everything that was expected of them and more, 25 Battalion was disbanded on December 2nd, 1945. The New Zealand troops of 25 (Wellington) Battalion had proven themselves as brave and capable warriors throughout the Italian Campaign and, by their efforts, all through the Mediterranean theatre of war. These soldiers who started out on this enormous challenge as raw recruits and ended it as breathless victors in a conflict which had engulfed the entire world, deserve nothing short of the greatest accolade awarded an ANZAC soldier - "We Will Remember Them".
© Peter Wells, Wellington, New Zealand