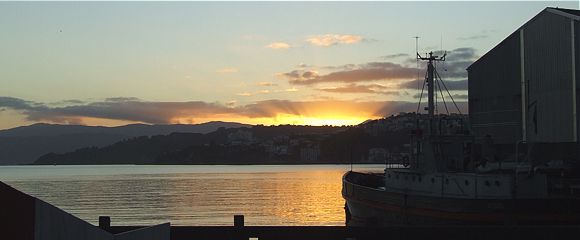 Wellington Harbour just before sunrise / Foto: Peter Wells, February 2007
Historic Wellington - A city is made up of many things; its people of course, its buildings, its landmarks and it boundaries. Most of all however a city constitutes its streets, the skeleton on which the body of the city is formed. Many cities are an expansion of an existing settlement, village or township while others, such as Wellington, are built from scratch. The original plans of Wellington (initially to be known as Britannia) were drawn up in London with little or no knowledge of the topography or the land surrounding Port Nicholson. Locations were identified, streets named and the fledgling city crammed into what little flat land was available on the southern shores of the harbour. Most of those street names remain today, of course, and the original routes they took are, in the main, unchanged. This next series of stories for Zeitblick looks at the history behind some of the key Wellington, how they came into being, why they were named and changes that have occurred to them over the last 170 years.
Series 5, Part 1
A Link in the Golden Mile - The History of Manners Street
Write-up to be done - Relics, ruins and historic locations are common to all countries around the world. Many countries may boast thousands of years of history and historic sites that hark back to those very early times while others such as the United States and Australia still measure their pedigree by a mere few hundred years. At a scant 170 years this makes New Zealand the "new kid on the block" and while we don't have ancient castles, crumbling ruins or buried treasure, we do have notable locations which mark key moments in our history. The fortified locations of Wellington, and by extension the rest of New Zealand, are examples of these locations and each of these, coupled with other significant sites built for different purposes, tells of important steps in the development of this nation. From the "apron strings" of colonialism to the obedience of dominion and the autonomy and complete independence of nationhood, New Zealand has won a respected place in the world and it has often been said that we are a small nation who "punches above its weight". The fortresses of Wellington, along with those in our other cities, are part of the development of this attitude to life.
---> The History of Manners Street
© Peter Wells, Wellington, New Zealand