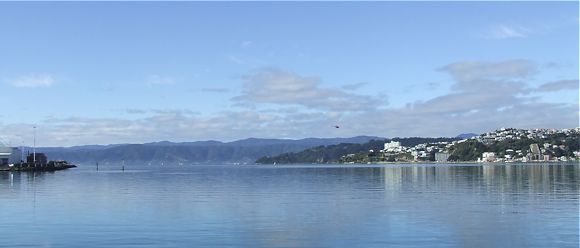 Wellington Harbour / Foto: Peter Wells
What's In A Name? - The Port of Wellington has several valid and recognisable names: the original Maori name of Te Whanganui-a-Tara (the great harbour of Tara); Port Nicholson as it was known by the early settlers; Wellington Harbour as it is known to most of its residents now; CentrePort as its commercial identity is known.
Semi-circular in shape and almost completely landlocked, Wellington Harbour is amongst the most beautiful and functional in the world. A narrow entrance keeps its calm, deep waters protected from external oceans and safe for most shipping. The next series of stories for "City, My City" is about Wellington Harbour, its coastline, its waters, its shipping and its history.


The vast expanse of Wellington Harbour photographed from the summit of Mount Kaukau. From the left can be seen the three islands of Mokopuna/Leper, Matiu/Somes and Makoro/Ward. To the right is part of the peninsula that used to be Motukairangi Island. Foto: Peter Wells 2008